Many elements play into a successful concrete project. We've remained leaders in concrete construction projects including commercial, industrial and residential construction—from planning to finishing.
Get a Quote
Concrete
From basic repairs to building new structures, G & J offers concrete construction services that allow your concrete to remain resilient to regular use and weather cycles.
Concrete Construction
We can construct the following structures:
Curbs (barrier curbs and pin-on curbs)
Para ramps
Islands
Steps
Curb and gutters
Monolithic sidewalks
Aprons
Curb crossings
Medians
Swales
Concrete Repair
We start all concrete repairs with a consultation to understand your specific requirements and determine the best solution to ensure longevity. From patching and sealing to grinding down areas of upheaval, we'll help to prolong the life of your concrete and ensure it remains safe and functional.
Finishing Touches
Many options exist to make your concrete an attractive feature that blends seamlessly with the structures around it.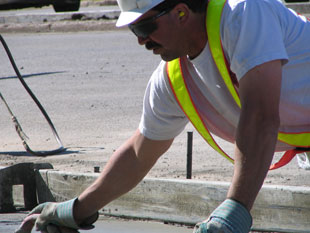 Colours:
Choosing a colour other than natural grey is a great way to integrate your concrete work with your outdoor colour scheme. We have dozens of colours to choose from to enhance the space.
Stamped Patterns:
Stamping is one of the most attractive ways to add texture and depth to your concrete. You can choose from our brochure of patterns or consult with us for suggestions.
Exposed Aggregate:
Exposing the aggregate (decorative pebbles) is a great way to give your concrete a natural look that is easy on the eyes. Aggregate can be chosen to match the design of surrounding spaces.
Recycling
We're always committed to reducing our environmental impact as much as possible, and this goes for all of our concrete work as well. Wherever possible, we prepare all concrete removed from the site for recycling so it can be crushed and reused. Contact us to find out more about our commitment to our clients and to the environment.